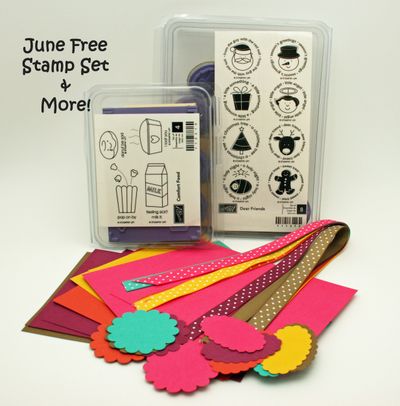 Hi! Each month I draw one name to win a free Stamp set and this month I decided to throw in some extras. I've been going through some of my old stuff (spring cleaning still happening except I had to take a break while I was sick. Dave reminded me today that starting this week we are doing one area a week 🙁 maybe he'll forget or go out of town).
Sorry I got side tracked there. The goodies in this picture include: Deer Friends stamp set, Comfort Food stamp set and a sample of the brand new In-Colors. It has 15 inches of each color of ribbon and some pre-cut samples of Melon Mambo, Dusty Durango, Crushed Curry, Soft Suede, Bermuda Bay & Rich Razzleberry.
Congrats Andrea P you won May's free stamp set and I sent you an email. I haven't heard from you, has your email changed?
If you place a Stampin' Up! order with me this month, your name goes into the hat to win these goodies. I usually draw the name around the 1st of the following month and send an email to the person. Click here to see all the details and see the winners names.
Thanks & see ya later!
p.s. Loretta B you are going to be so happy. Your order today pushed me over my yearly goal for my Stampin' Up! sales. I was going to offer you a free stamp set….but you wanted my Punch Book and I've sold out! If that's what you'd like, you can have it! Thank you for placing an order today!!
p.s.s. I loaded two videos on my Stampin' Academy today. The Lamb Punch & the Horse Punch. Click on the names to go watch the videos.
Click here to place a Stampin' Up! order.