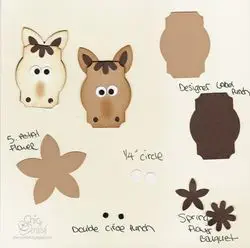 Hi, my video today is how to make this Horse.
The Punch list includes: Designer Label Punch, Five Petal Flower, 1/4″ Circle, 1/8″ Circle or Double Circle & Spring Flower Bouquet.
If you don't have the Spring Flower Bouquet Punch, you can use the Boho Blossoms Punch with and the Snow Blossoms Punch.
Cardstock Colors: Creamy Caramel, Chocolate Chip, Basic Black & Whisper White.
Enjoy!
Here's the video
Click here if you'd like to place a Stampin' Up! order.