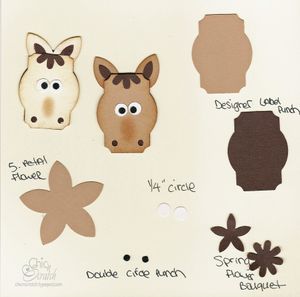 Good morning!
This is what I'm working on….the Horse Punch Page. I've filmed the video but You Tube isn't loading. I'll keep trying but in the meantime I'm punching like crazy. I'll share a few photos next week of the assembly line production of the Punch Pages.
June 7th Update: Click here if you'd like to watch the video on how to make this horse.
It's safe to say I'm a tad behind, but I'll pull some all nighters and try to get caught up.
Have a great day!
Punch List: Designer Label, 5 Petal Flower, 1/4 Circle, 1/8 Circle & Spring Bouquet (retired, but you can use the Snow Blossom for his ears but that one is about to retire too).
p.s. I'm sorry some of you have had trouble getting to my website!! It should be fixed by this afternoon (they said 24 hours). Please bookmark this https://mychicnscratch.com. I've found that by typing www.mychicnscratch.com it's still not working.