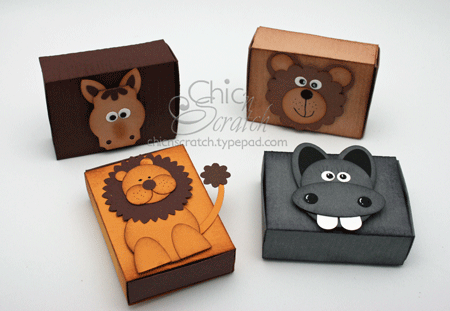 Hi! Aren't these the cutest things ever? I wish I could take credit for creating them but I can not. A friend (hey Julie) and I got together and we madethese animals from a variety of sources (mainly splitcoasters…..I think). The day we made them was a blast! I swear we laughed so hard…especially when we made the horse. You had to be there!! Let me tell you…. you start to talk to this guys once you've made a few.
Each animal is made with our Stampin' Up! punches and when I saw the Matchbox Die I knew that would make the cutest little gift for a child. Do you remember the Bunny Face box I made with the nugget box?
To add some texture I used the Big Shot Texture Plate #4 and I sponged the edges on all of them to give it some depth (is that the right word?).
Now for the good news….I'm working on the videos this weekend but because of the process I'm not sure if I will have one ready by Saturday. I'll try…. but I have Card Class tomorrow, 3-D kits to mail and Stamp Club on Monday & Tuesday.
That means I need to also clean my stamp room (oh dear!!!).
Have a good night and thanks for stopping by!!
p.s. When I make the videos I promise I'll have the list of all the punches needed. I found some of the animals, not all of them and who knows where I put the list. But when I make the video you'll see each and every punch I used and I'll put it on the screen and on my blog.