April 29th Update: Google Reader isn't working. I'm not sure why. I'm still posting every day…but it's not working. I will try to get to the bottom of it but who exactly do I call. Please try Feedburner or Bloglines….that reminds me…. is Bloglines working? Any suggestions?
thanks!!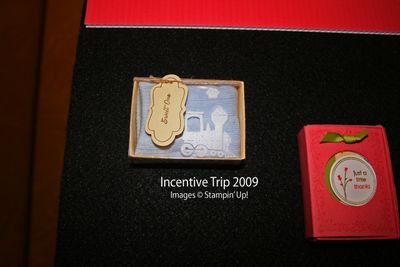 Good morning!!
I really wanted to stamp this week but it looks like I'll continue to play catch-up. I've had a busy week of appointments and all I really want to do is lock myself in my stamp room (you can relate can't you?).
So, today I'll show you some samples that I took pictures on the Incentive trip. All of these photos are in the Incentive Trip photo album on the right side of this blog. (I'll add more photos this weekend.)
All these projects were made with items from the Occasions Mini Catalog. The top left project is the Matchbox Big XL die on page 16. The sentiments on both projects are Matchbox Messages on page 17. Don't you love that train? That's from the Choo Choo stamp set on page 18. (That set reminds me of the days when Chase carried his trains everywhere.)
The next picture is the same box with the Brand New Window Sheets, found on page 10. If you're like me, you might have missed the little note that shows they're 12 x 12 sheets (I was pleasantly surprised when I opened the box).
Thanks for stopping by…..have a great day!!
p.s. Thanks for all the Chic Stand orders!! I can't wait to hear what you think about the new size 🙂
p.s.s. I'm working a couple new videos this weekend and one of them is the Matchbox die….stay tuned!