Congrats Susan Timchack!! Your number (you were #170) was drawn. Please send me your address & I'll get your gift in the mail asap.
Thank you all for watching my videos and for participating!! I saw a lot of new names and that's very exciting! I have several contests coming up so make sure you check back often. I gave 48 hours to enter this one but in the future I will change it up.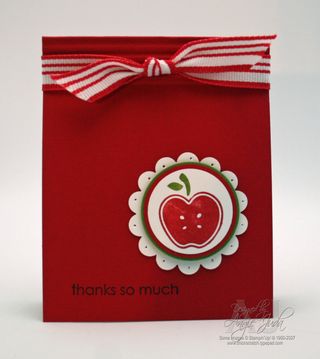 I was ask yesterday if I ever switched the Post it Note Holder around and put the crimped edge at the top. The answer is yes & I looked for my sample…but I couldn't find it…….it may be in my old office 🙂 My picture today is one that I made last year (re-made).
Another question was did I use a full pad of post it notes. The answer is no, if you buy a normal pad of post it notes, you will use a third of it. But, if you buy them from the Dollar Tree or Deals you can use 1/2 of the pad. I've also included a picture of that…but I usually have it a little thicker.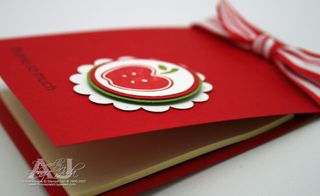 Thanks for joining me!
Stamps: Tart & Tangy
Ink: Real Red & Old Olive Marker & Basic Black
Cardstock: Real Red, Old Olive & Whisper White
Accessories: Real Red Grosgrain Ribbon, Scallop Circle Punch, Circle Punches, Crimper, Paper Piercer, Stampin' Dimensionals & Chic Stand