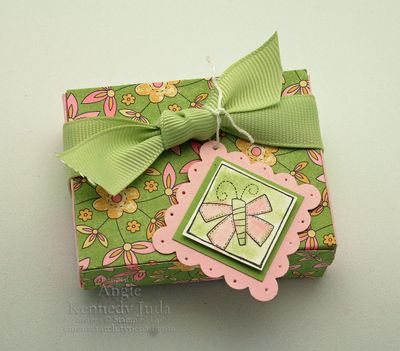 Hi from Hawaii 🙂
My project today was made with the brand new die for the Big Shot. It's the Matchbox die and it's available April 1st & you'll find it in the Occasions Mini Catalog.
The Mini Catalog features some amazing new product and if you're a customer of mine you should be receiving this catalog any day!! (quick reminder for the girls on my team….if you're a new demonstrator, you can pre-order those items now…email me if you need help.)
I made the Matchbox with the Tea Party Designer Paper and the Quilt Quips stamp set. The butterfly is layered onto squares and the scallop was punched with the Scallop Square punch. If you're curious about the Matchbox….it works just like the Nugget Box, it's just cuter!!
Have a great day & thanks for stopping by!
p.s. Day one of Hawaii has been fantastic. We started out the day on the balcony drinking our morning coffee and watching the whales …it seriously brought tears to my eyes. Next….Chase & Dave went snorkeling and Chase cut his hand : O more news soon!