Good evening!
Thanks for all the really nice comments you guys left me over the past two days! I really appreciate it and I have read every single one of them….that's why I'm late posting the winner. Congrats to Nada!! You won 🙂 Please send me your address and I'll get the goodies out to you asap.
Chic Stand Update….I figure I better post it on this blog too 🙂 they are on backorder….and ….they are being re-designed…New & Improved!! I expect my shipment late Feb or early March….I think it will be worth the wait and when they arrive you can expect a new video 🙂
Speaking of videos I've filmed two new ones….do you want to hear that it took me 12 takes to get them? I swear…the phone rang, the dogs barked, the kids shut a door, the phone rang, the dogs barked. I kid you not!! I made Chase and Brook come watch them so they could see why steam was coming out of my ears…just kidding…but seriously I was about to call it a day…maybe you'll get a kick out of them knowing how much effort I put into it 🙂
The first video was on the Big Shot Texturz Plates. After showing you the Bag with Scallops the other day I had shared with some of you that a video was coming…..thanks for being patient with me! Click here to head over to my Stampin' Academy to watch my video. Tip……if you're wanting to see how the rubbing alcohol is used…it's on the video.
The 2nd video is the Bag w/Scallops…Click here to go watch that video. Remember when I told you I had made several of the Bag w/Scallops? Here's a couple pictures of two more of them.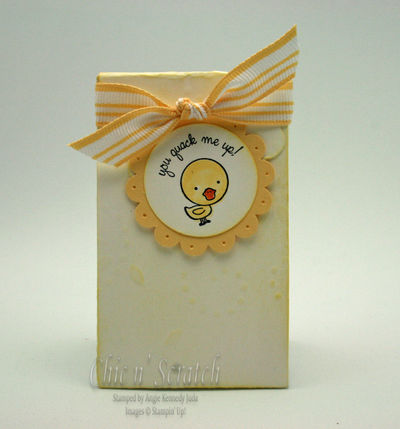 The first picture …..I used the Animal Crackers Stamp set with the So Saffron Striped Ribbon. I sponged So Saffron ink after I embossed it with the Backgrounds #1 Texturz Plate.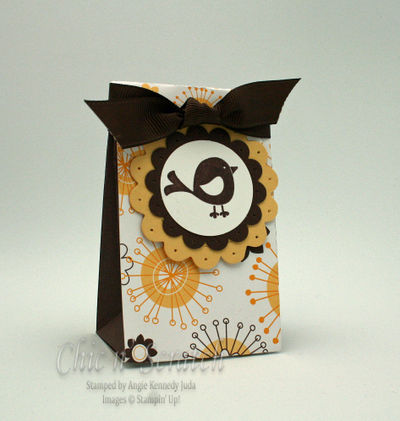 On the next picture I used the Good Morning Sunshine designer paper with the Cheep Talk stamp set. I still want to play around with it….I'm missing something 🙂
Thanks for stopping by….good night!