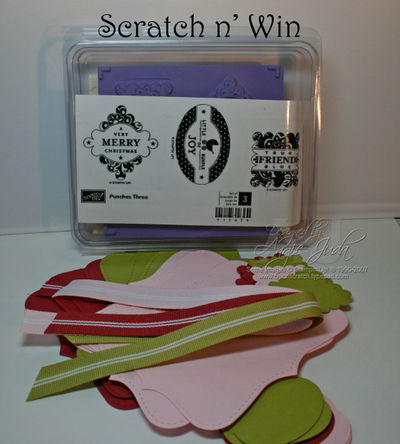 Good morning!!
The next couple days are going to be super busy…& there's no better time for Scratch n' Win!!
I have my Holiday Class tomorrow among other things (like putting up my Christmas tree). in other words I'm going to focus on my "To do List".
I will draw a winner Thursday night around 10pm. Here's the tricky part 🙂 To enter this drawing….I'd like for you to submit a recipe. What's your favorite recipe you make during the holidays? Mine would have to be my Christmas Bell cookies (or little pecan pies).
I know…are you scratching your heads….why am I asking this? Sorry!! I love Christmas baking…..and every year I bake for everyone….some years I bake a whole variety of items and make the cutest cookies plates…I could show you pictures of those if you'd like :)))) And years that I'm running behind I make one cookie….usually the Christmas Bells…the recipe makes 5 dozen. Have I told you about the year that Fluffy jumped on the kitchen table and knocked 15 dozen cookies on the floor (yes, I cried….. that year everyone got fewer cookies)?
So, long story short….what baked goody do you like to give each year? If you don't bake for the holidays….hmmm….how about posting your favorite recipe. I can't wait to read all the recipes!!
Have a great day & Good luck!!
p.s. If you have trouble submitting a recipe, email it to me and I'll post it for you.
Christmas Bell Cookies
2/3 cup butter (softened, non salted)
3/4 cup sugar
1 large egg
1tsp grated orange peel
1 tsp vanilla
2 cups flour (all purpose)
1 1/2 tsp baking powder
30 maraschino cherries, halved
Beat butter in large mixing bowl until creamy. Add sugar and beat well. Add egg, orange peel & vanilla. Beat until well blended. Combine four & baking powder; gradually add butter to mixture. Beat until well blended. Cover & chill for 30 minutes (not much longer than that or dough will be too hard to roll out). Shape dough into 2 rolls. Wrap rolls with Saran Wrap and chill for 8 hours. Cut rolls into 1/4 inch slices and place on un greased cookie sheet. Place one cherry half on top of each cookie. Bake @ 350 for 10 to 12 minutes. Let cool on wire rack…store in shirt boxes between tissue paper. Makes 5 dozen.