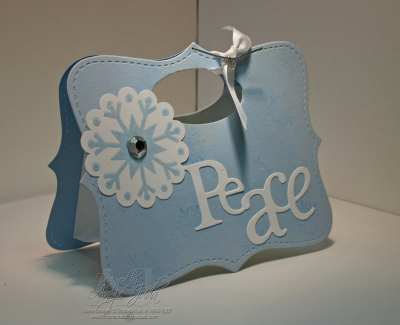 Good morning!
I know I said that next week I would be showing the Country Living Holiday Collection projects….but since this was one of my 12 weeks of Christmas Projects I wanted to get it posted on my blog too.
If you're looking at the Snowflake and trying to figure it out….Yes, it's from the Holiday Collection stamp set….and ….. it works perfect with the Scallop Circle Punch!! I used the Top Note Big Shot Die to cover the bag. I used a Rhinestone Brad and took it apart to get myself a gem (do you know what I mean?) and attached it with a glue dot. "Peace" is from the "Join in the Cheer", also a Big Shot Die and attached it with the Tombow Liquid Glue….love that stuff….it's perfect for those small pieces!!!
As for the craft sacks….I always get them at Michaels. Wal-mart carried them a few years ago but it's been a while since I've seen them there. The company name on the bag is Paper Reflections & the bag size is 3 1/2 x 2 x 6 3/4.
Thanks & see ya tomorrow!