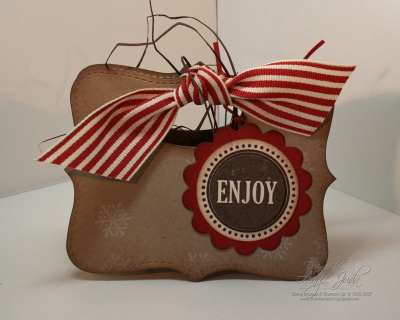 Good morning!
Isn't this darling? I wish you could see it in person….I love it so much I've already made three of them 🙂
I used the Country Living Holiday Collection kit to make this project…along with the Big Shot 🙂 The snowflake and "Enjoy" is in the Holiday Collection stamp set & I used the Top Note Die to cover the bag and the Pennant Die for the Scallop circle.
Here's another picture 🙂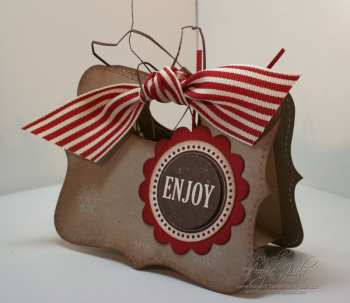 And the Video Tutorial is ready….click here to head over to my Stampin' Academy to watch it.
This was the teaser from yesterday….I just had to film the video before I posted it on my blog. Chase helped me do some editing….I said the wrong word & he showed me how to fade out and then fade back in 🙂 I know… those terms are confusing to me too 🙂
I have a few more ideas for this little gift bag but I may run out of time this week. I have Stampers Club tonight…..two Stamp a Stacks plus mailing the kits, Twilight starts on Thursday (midnight)…….a Shoebox Swap Saturday…& Chase turns 16 on Sunday. Yes.. all of that in one week….and there's more but I'll keep it to myself ….otherwise I may stress you out too 🙂
Have a great day…thanks for stopping by!