Good morning!!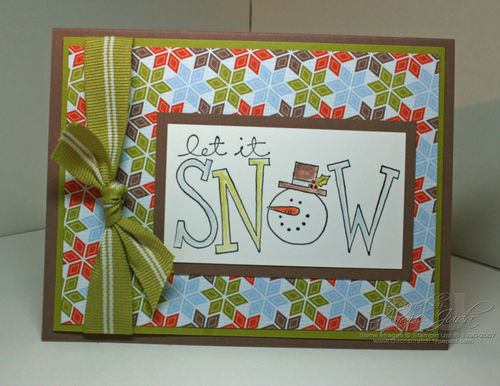 I decided to break out my Big on Christmas stamp set this past weekend and I'm sure glad I did!!
Make sure you watch for my 12 weeks of Christmas this week….the project I have lined up uses this set and I think you'll be pleased!
Today is going to be crazy busy….I have a Stamp a Stack this morning and another tonight and then I'm headed to the Midnight showing of Twilight🙂 I love going to movies on opening day or night and I'm soooooo excited.
Can you see a difference on my blog? I see that Typepad has my blog on the new platform….not sure what exactly that means :O
Have a great day…see ya tomorrow!
p.s. tomorrows post may be late…..not sure….I may wake up feeling creative…or I may sleep in…. I won't get home until 2:30am :O
Stamps: Big on Christmas
Ink: Timber Brown Stazon (or Basic Brown), Tangerine Tango, Bashful Blue, Close to Cocoa & Kiwi Kiss (Rose Red Marker for holly berries)
Cardstock: Close to Cocoa 8 1/2 x 5 1/2 score at 4 1/4, Kiwi Kiss 5 1/4 x 4, Frosty Day Designer Paper 5 x 3 3/4, Whisper White 3 1/4 x 1 7/8, Close to Cocoa 3 1/2 x 2 1/8
Other: Blender Pen & Kiwi Kiss Striped Ribbon