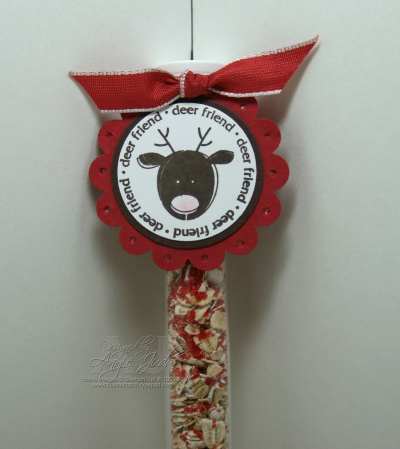 Good morning!
How do you like my new version of Reindeer Food?
I think it's really cute…just need to figure out how I'm going to include the Poem.
Remember when we were all searching everywhere for Test Tubes and couldn't find them. Well, these are the ones I bought on ebay. They are an inch shorter and the width is small compared to the other ones….but they are still cute. I'm thinking if I could find a cork topper…it might be just as cute.
Have you seen the Holiday Mini Catalog? If so, I'm sure you've admired the New Ribbon choices!! If you'd like to purchase a Ribbon Share from the Holiday Mini, click here to head over to my Chic n' Scratch Shack.
Yesterday after my Halloween class I had to go to the eye doctor…all of a sudden I had a red dot in my eye. Turns out I busted a vessel? Oh well, he checked me out, gave me some drops and all should be well…but the red dot just might get a bit larger…scary!!
Have a great day! (Here's a picture of the whole Test Tube.)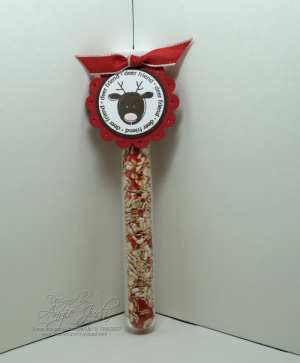 Stamps: Deer Friends (Level 2 Hostess set)
Ink: Timber Brown Stazon
Cardstock: Riding Hood Red, Chocolate Chip & Whisper White
Other: Riding Hood Red Taffeta Ribbon, 1 1/4″ & 1 3/8″ Circle Punches, Scallop Punch, Chic Stand & Paper Piercer.