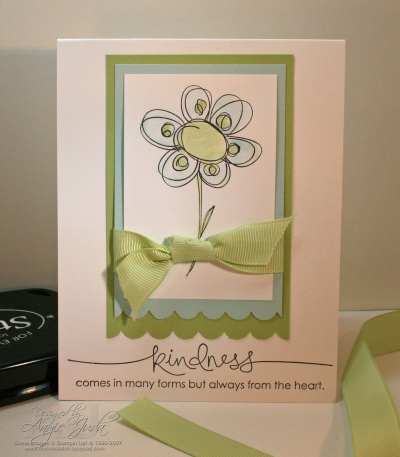 Good morning!!
Isn't this card pretty? This will probably be the last time I show you a card with Soft Sky…it's retiring in a few days.
I created this card several weeks ago to take to Convention as one of my swap cards…..but with the sinus infection and everything else….I never got to making more than this one card. ( I was going to use Baja Breeze, a new "In Color"…instead of Soft Sky).
The Stamp sets I used were the new Heard from the Heart and Doodle This….they go well together don't they??
Quick piece of info….if you're a demonstrator and live in the Kansas City area, don't forget to register for the Stampin' Up! Regional meeting today. I'm attending the Friday session 🙂 It's the last Friday in September. FYI…If you join my Chic n' Scratch Stampers group this month and become a Stampin' Up! Demonstrator……I'm giving you a choice for a FREE gift….you can choose either the NEW Scallop Edge Punch or the New Scallop Square punch (I'll post more info soon….let me know if you'd like more info on becoming a Stampin' Up! Demonstrator). Kits go on sale Aug. 11th, ask me for more details!
Thanks for stopping by…..see ya tomorrow!
p.s. Someone said today that it will take at least a week to get back into the swing of things after Convention….I hope it's sooner!!! I moved all my ink, paper & punches into my new space yesterday…..today I'm moving the stamp sets 🙂 My old office is 30 stairs away from my new one….maybe I'll loose some weight :))) I'm moving from a spare bedroom to the basement….maybe you've seen the pictures of where I hold my club meetings??
p.s.s. Chase & Brook fly home tonight from Tennessee…I can't wait to see them!!