Good morning!!
Yesterday I managed to get my suitcases unloaded….laundry almost finished and major progress in my new stamping space. Here's what it looked like when I got home from Convention…..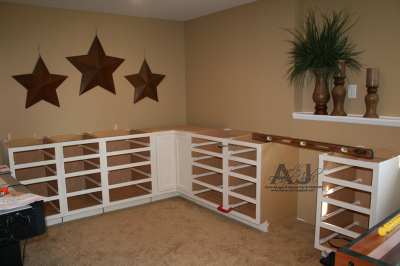 and it's how it looks now…….(click on picture to view it larger)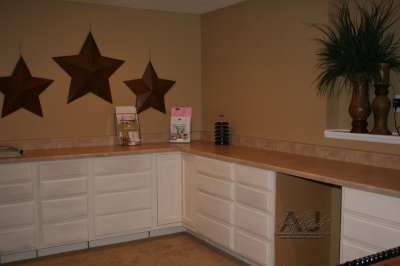 Amazing isn't it??? I need to pinch myself to make sure I'm not sleeping!!
This is phase one for my room. We're going to add an island in the middle of the room and cabinets up above…but the cabinets up top may take a few months. Next week Dave will start on my island 🙂 Lots of work still to be done….I need to add drawer pulls….distress the drawers and polish them….paint that one area….add trim and then move my stuff. I'll post again later today after I stamp something fun in my new space 🙂
I've got so many Convention photos I'm trying to figure out what's the fastest way to share them. Any ideas? I took almost 700 and that will take me forever to crop and add a watermark ( watermark is needed to show the copyright for Stampin' Up! images)
Have a great day!!!
oh dear….I almost forgot.,,, Please send me an email (angie@chicstand.com) if you'd be upset if I change my Open House date……. I really want to show you all kinds of new products….but we can't order until the 11th and I'm just not sure I can pull it off. I would like to reschedule it for September. If you were planning on coming….I could do a card class or a stamp a stack on that date instead….just let me know. Thanks!!!