Halloween Treats | Frankie Box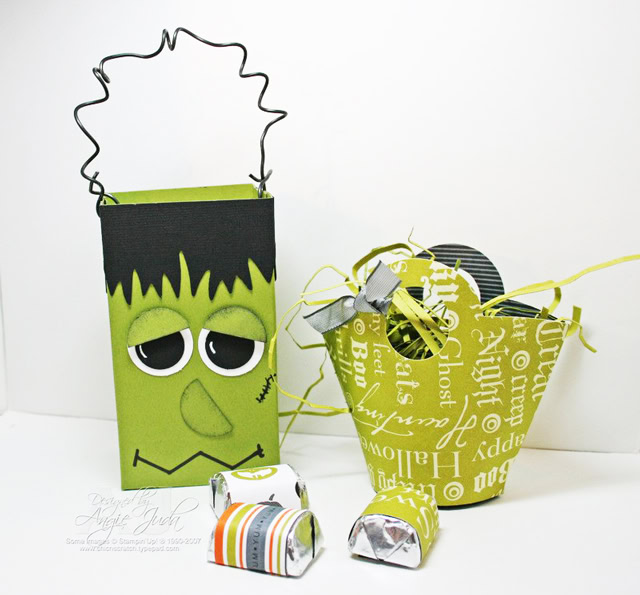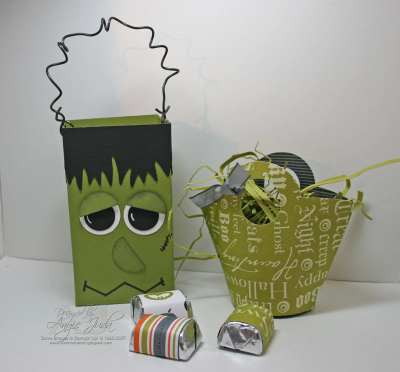 Good morning!!
Aren't these treats the cutest?? Do you remember the Frankenstein & Mummy bars I made last year? They were such a hit ….and I wasn't sure how I was going to change things up for this year…..until today….with a little help from a friend J
After the week I've had some of my friends called to check on me and when Julie called she also told me about the Craft Fair items she was working on. I needed a pick me up & going over to her house really helped! I loved what I saw so much that I had to rush to Lowes when I left her house…… so I could copy her Frankenstein box for my Halloween Treats Class (Thanks for sharing Julie!!!)
I can't take credit for him……except the mouth….I can't draw a lick…but Julie can J So…… I had to use a template. Either way…..I love him!!
The picture today includes just two of the five items I'll have in my Halloween Treats Class. All the information will be posted next week (Class date… Cost & Kits).
We are taking a much needed break and going to the Lake house…I pray I don't end up going to Tennessee (my sister Kim may need surgery). My next post will be on Tuesday Sept. 2nd. Have a safe holiday weekend!!
Thanks for your prayers & the really nice comments yesterday!!
p.s. I posted the details of my Big Shot club in my previous post. If you have any questions, please feel free to email me at angie@chicstand.com.
Here's one more picture of the Frankenstein box 🙂