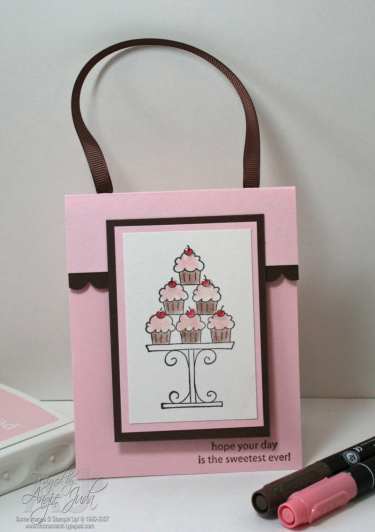 Good morning!!
Lots going on today……. I'm typing fast 🙂
This cute bag is item number one for my Crazy for Cupcakes Party Favor Class. I'm so excited…the projects are turning out so cute…how could they not with such a darling stamp set and beautiful colors?
Check back tomorrow for all the details on my Crazy for Cupcakes Party Favor Class or Kit!!
Also if you're someone that ask me about the Coaster Calendar last week. I posted a video on my Stampin' Academy (video was made for downline but I'm sharing it with everyone). Click here to watch it.
I've got that feeling again….I'm forgetting to tell you something…..maybe I'll remember it soon :O
See ya tomorrow!