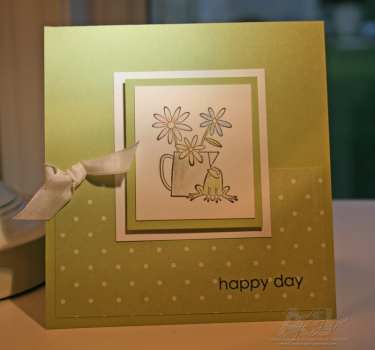 Good morning!!
Look how cute that little frog is….he's so darling!! This is " A Flower for all Seasons" stamp set and it's one of the sets I got Free at Convention. The other three images are super cute too!
A few updates……
* New Ribbon Shares are posted on my Chic n' Scratch Shack. Click here if you'd like to order a share of the new Ribbon. This month I'm featuring two & next month I'll post the rest.
*Starter Kit Special starts Aug. 11th, you have four kit choices (3 of them are $99 and one is $199 with your choice of a free set from the Catalog Sampler). I'm also offering an additional incentive, your choice of punches….either the Scallop Edge or the Scallop Square. Both are the must have New punches!! Send me an email if you'd like more info angie@chicstand.com.
Have a great day!!
p.s. Some of you have ask me to share some additional photos of my room. It's a slow process….trying to figure out what goes where when I'm still waiting on the other half of the room to get finished :O But, I'd be happy to show you….I have a photo album on the right side called Angie's Stampin' Studio. Click on that and you'll see the photos from my old room….plus the new room. I'll add more photos as soon as I can. I filled up my punch drawers & I'll take a picture of them tomorrow….just don't pass out when you see all my punches :))))) See ya 🙂