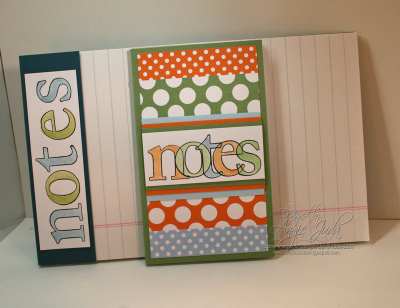 Good morning!
Isn't the Jersey Shore notepad cute? When I designed it I wanted to show it to everyone as fast as I could….but that was …back when I was going to apply for the Artisan Award.
I'll be honest, I've never applied. Each year I think this time I'll try. But to keep my stuff hidden and not share it…I just can't do it!! The only reason I didn't show this sooner is because it was stashed away and I forgot. I found it yesterday because I bought another file cabinet :O (Yes, it matches the one I showed you a few months ago, they finally got them in stock.)
Couple reminders for you….Today is the last day to order from the Occasions Mini Catalog and tomorrow you can start ordering the Decor Elements (if you need a brochure, let me know). Also remember, anyone that places an $100 Stampin' Up! order with me in July gets a Free Fall & Winter Idea book & Catalog. ($100 net total, before tax & shipping.) Don't forget, if you're a club member your Idea Book & Catalog is Free.
Have a great day….thanks for stopping by!
p.s. thanks for all the Congrats yesterday….I really appreciate it!
Stamps: Jumbo Outline Alphabet
Ink: Black Stazon, Bashful Blue, Pumpkin Pie & Wild Wasabi
Cardstock: Jersey Shore Designer Paper, Wild Wasabi, Pumpkin Pie, Bashful Blue, Not Quite Navy, White