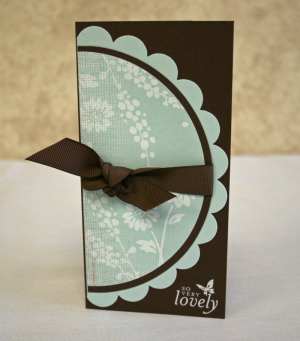 Good morning!
Every time we have a group meeting…… I rush home & place an order 🙂 Why? Because I always see something that is a must have, in this case…. it would be those Love Bird Rub-ons (page 6 of the Occasions Mini Catalog).
This was my favorite card of the day and Shelly brought it to display on the Show & Share table.
If you've not visited my blog in a few days, you might want to look further down, lots of news lately 🙂
Have a great day and thanks for stopping by!
Cardstock: Chocolate Chip, Soft Sky & Soft Sky Designer Prints
Other: Chocolate Grosgrain Ribbon, Love Birds Rub-ons & Carousel Notes
p.s. Only 6 more days to take advantage of my Retired Stamp Special. If you're on my mailing list you received that a few days ago. But, it you're not on my list & want a copy of the special, email me at angie@chicstand.com.