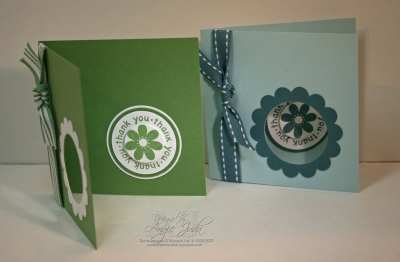 Hi….me again 🙂
Instead of posting tomorrow morning early…I'm posting my Saturday project early.
Aren't these cards cute? Remember the other day when I said I had a warm up card for the eScape bundle….this is it…see no… Build a Brad…but you could add it and it would be darling!! And I used Seeing Spots instead of the Circle of Friendship.
Have a wonderful weekend and I'll see you again on Sunday!
p.s. thanks for the kind remarks about my hubby….he'll get a kick out of some your comments 🙂
p.s.s. Update on Password books and Shack orders…I'm working as fast as I can….my helper has a sick little boy and the owires for the password books are coming from CA and will get here on the 9th. They are still on target to ship as promised…. by June 15th. thank you!!
Stamps: Seeing Spots
Ink: Wild Wasabi & Blue Bayou
Cardstock: Wild Wasabi, Blue Bayou & White
Other: Wasabi Striped Ribbon, Blue Bayou Double Stitched Ribbon, 3/4, 1 1/4, 1 3/8, 1 1/2 Circle Punches, Dimensionals & Scallop Punch