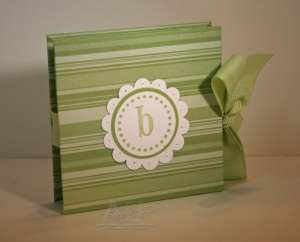 Good morning!!
This cute little Brag Book is what I'm giving Brook for her end of the year gift. In the fall, she starts High School and I wanted to give her a little special something. I've included a few of my favorite photos of her….I'm also going to include some of the poems she's written in the past few years and a short note.
The pictures I'm sharing doesn't show the finished project……I'm just thankful I have a few more weeks to get it finished 🙂
Would you like to see how I made this? I'll work on a Video and try to get it posted before the weekend. I know it would make a great Mother's Day gift. If you want to work on finding photos…..the pictures need to be 2 7/8 x 2 7/8 (that was the most time consuming).
I'm so excited that today's the day to register for Convention!! Yippie!!!! I can't wait to learn all kinds of new things….you can imagine the pictures I'm going to take 🙂
See ya tomorrow!
p.s. Did you happen to see the movie P.S. i love you? We can buy it on DVD today 🙂 I'm getting my copy…right after I register for Convention 🙂