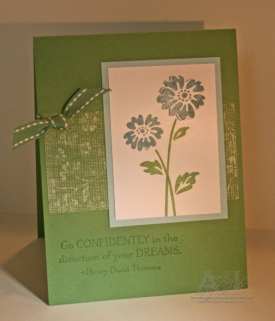 Good morning!
Tonight is my April Stamp Class and this is one of the cards we're making. I bought the Live your Dream stamp set because it had the bird, funny thing is…. I haven't really used the bird much….but I'm sure I will soon!
Yesterday we celebrated Brook's birthday and went to a Japanese Steak House, we laughed so hard!!! Chase caught every shrimp they threw at him, even when they told him to go across the room. (I did manage to catch one shrimp, the rest hit me in the face 🙂 I took a picture of the orange they brought us and everyone poked fun at me (what can I say, I wanted it for the scrapbook).
Thanks for all the really sweet emails about how much you love your Chic Stands….when I ordered them…. I was sure scared, almost sick to my stomach, but I just had that feeling, that you would love them as much as I do….I'm thrilled that the response has been 100% positive :)))))) Words can't really express my gratitude!
Gotta get busy…….Have a great day!
p.s. do you remember the date that you met your hubby? I do, April 14th 1990….today…all those years ago 🙂 (he laughs at me for remembering that date, it's also the same day his boat flew off the trailor and went flying down the interstate :O
Coming soon…….thanks for all the requests for the envelope card. I'll be sharing the video tutorial within the next day or so.
Stamps: Live your Dream
Ink: Wild Wasabi & Blue Bayou
Cardstock: Wild Wasabi, Soft Sky, Afternoon Tea Designer Paper & White
Other: 1/8 Circle Punch, Wild Wasabi Double Stitched Ribbon, Stampin' Dimensionals