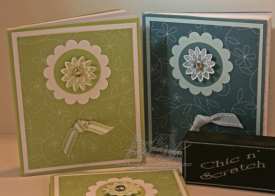 Hello Stampers,
Today I've got a video tutorial for you & not only does it show you how to make one of these small Composition Notebooks but also how I use the Chic Stand. Click here to head over to my Stampin' Academy to view my tutorial!
Couple things…… make sure you read the two post below this one for more details on my Chic Stand….I posted 3 times yesterday…..and……. the first 50 people that orders a Chic Stand will also get a Free notepad, those details are in the tutorial.
Thanks for stopping by, have a great day!!