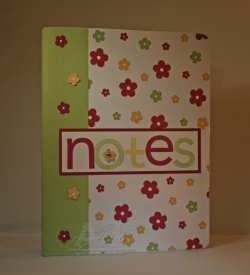 Good morning!!!
Let me start by saying……Wow!!! Thanks for all the orders for my Chic Stands!! I hope you all love yours as much as I love mine and please be sure to let me know what you think when you get them!
This notebook is one I was working on a few weeks ago when I made that Chic n' Scratch notepad…..do you remember it? I was saving this one to show you…after I showed you my Chic Stand, since I used it to attach my brad 🙂
I haven't stamped in several days….you can expect a melt down any day now (just kidding).
Got a busy day ahead……see ya tomorrow!
p.s. I have the supplies ready to film my tutorial for the large composition notebook….expect it soon!!!