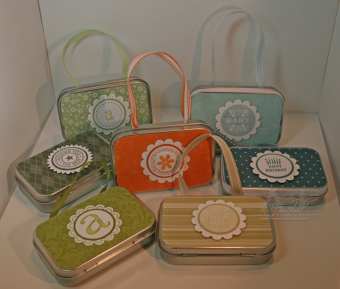 Good morning!!
Aren't these darling? I made altoid tins for every occasion….well….not really….but…. I tried. Here's what I'm thinking….these tins would make a great gift for any occasion! For example….Mother's Day, Birthday, Baby Gift, Graduation,Teacher/Staff Appreciation, Thank you, Tooth Fairy, you name it. What does it hold? Gift card, money, change for the soda machine, postage stamps, first aid kit, hotel room key card, even your keys! Personally, I'm taking mine to Convention to hold some cash & my room key. Maybe I'll even make it to match my notebook 🙂
Here's the good news……I'm going to sell the kits to make these darling Altoid Tins. You'll have your choice of color family and I'll post all the details over on my Chic n' Scratch Shack! It may be Monday before I can get them all posted and when I do I'll update this post with a link. I'll also film a tutorial of how to assemble it once you've received the kit.
Thanks for checking in……Have a great Sunday!!