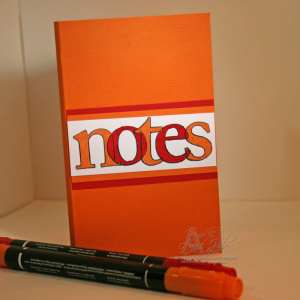 Good morning!!
I couldn't resist showing you one more notepad!! I've used this notepad for years at my workshops and events. It's super fast, super easy and cheap :O Okay, maybe I wasn't supposed to tell ya that, especially if you've made them at one of my classes.
You can really spruce them up with some designer paper, ribbon and even some hodgepodge hardware!
Either later today or tomorrow, I'll share with you a video tutorial on how to make these….I'll also show you what the package looks like and where I get them….in other words…..to be continued…… 🙂
See ya tomorrow!!
Stamps: Jumbo Outline Alphabet, Linen Background
Ink: Pumpkin Pie, Real Red SW Marker & Pumpkin Pie SW Marker & Black Stazon
Cardstock: White, Pumpkin Pie & Real Red