Good morning!!
Did I already show you this card? I hope not….I think I showed it on my video tutorial last week. (can you tell it's like day 7 of Spring Break??? :))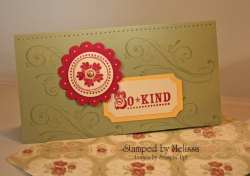 My next card is from another one of my club girls….Melissa. Hey girl, hope your having fun in Texas (hope you're not near those floods!!). I love how she made the envelope with our Five-in-One Card Cover Template (page 167 of the catalog). I have it, but I've never used it…..but I will soon, thanks to Melissa :))) I bet you didn't know that before Certainly Celery was in our color family….Mellow Moss was my favorite Stampin' Up! color!
Gotta run…..Have a great day!