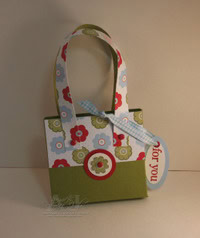 Today's tutorial shows you how to make one of these little handbags. (you'll also see the Crop a dile setting an eyelet.)
As usual post a comment and I'll draw a number for someone to win one of these…tomorrow on Valentines Day!! Feb. 14th Update…Congrats Stacie (post #12) you've won!!!!
Important note….on the tutorial, I said to turn and score at 1/4″, it should be 1/2″. (sorry!!)
Supply List
Stamps: One of a Kind Ink: Real Red Cardstock: Old Olive, Real Red, Whisper White, Bashful Blue & Summer Picnic Designer Paper (available March 1st) Tools/Accessories: Crop a dile, Brads, Small Oval Punch, Oval Punch, Paper Piercer, Matt, Blue Gingham ribbon, Eyelets, Trimmer & Scoring Blade
Measurments for this box: Old Olive 3 1/4 x 7 3/4, score at 3, 3 1/2, 6 1/2 & 7 turn and score at 1/2. Handles are 8 1/2 x 1/4 & Summer Picnic Designer Paper is 3 x 1 3/8
Original box size was 4 1/4 x 7 3/4, score marks are the same!!