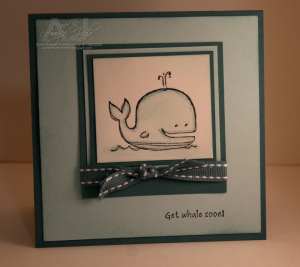 No time to stamp again today, so I ran into my room right before bedtime & made this cute little card. The Pun Fun stamp set is on the top of my list of favorites in the new catalog!! And yes, I separated the words and put them on the side. I just love the images so much and I want to be able to use the whale with Happy Birthday! So, I got out my cutting board and exacto knife and went to town. (Just go slowly if you try this yourself.)
That's is for business talk today…Have a Super Sunday!!
Card details…Stamps: Pun Fun Ink: Black Stazon, Soft Sky & Blue Bayou Cardstock: Shimmery White, Blue Bayou and Soft Sky Tools & Accessories: Blue Bayou Double Stitched Ribbon, Aqua Painter & Sponge (p.s. I think I may to recolor that whale..oops)
Remember how I said I was soooo behind on everything? Well, I thought I would share with you a couple photos over the past month…to give you a glimpse of my life.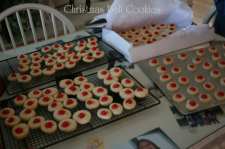 This first picture is of my Christmas Bell Cookies. I make them every year and they are one of our favorites. I usually make around 30 to 60 dozen cookies every year and this is the one that I make the most of. They are really yummy and not to hard to make. In the photo, you'll see some just out of the oven on cooling racks, some in the shirt boxes where I store them after they've cooled and a tray of uncooked ones waiting to go in the oven. When I bake, I bake all day and one tray after another goes in the oven. This year I was so unorganized that this is the only cookie I gave out….guess that's good for me, since I normally gain weight every Christmas from eating my own cookies. (do you do that?)
Moving on….this next photo is of me & my new ride…..my hubby got me a Trailblazer.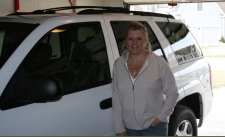 It is so much fun to drive!! I've had a mini van for 3 or 4 years and although I liked it just fine…I really like SUV's & now both of our vehicles can pull the boat (that may not be a good thing if my dh decides he wants to borrow it). And the best thing of all….it's white which is my most favorite color in the world!!
Okay, I'm all done with my personal stuff for a while!! Thanks for stopping by!