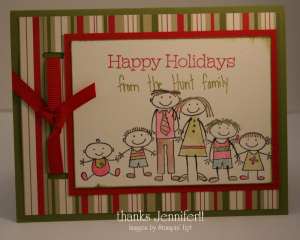 Isn't this card so darling? Thanks Jennifer! I really love it! It makes me want to rush over to my desk and stamp with my "All in the Family" stamp set, now if I could just line up my family like that!! hee hee
The next card is from Bobbie, isn't it beautiful? I love acetate cards, but I haven't created one of my own… yet! Thanks Bobbie!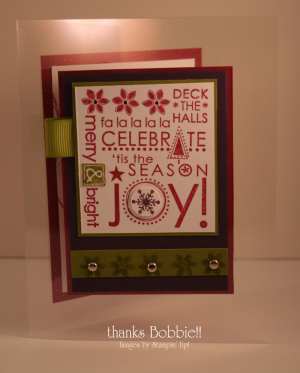 That's all my stamping news today….I'm still having blog and computer issues. I've heard from some of you about my new banner, Thanks for the kind words!! But, I can't see it, for some reason my computer still shows the old banner. Any suggestions? I've cleaned out the cookies, cleared all the history, rebooted a hundred times. I'm exhausted!! So, yesterday I got away and went to see "P.S. I love you" ….oh my….what a movie, loved it!!! I cried almost through the whole show ( I love those kind of movies). Did you know Denny from Grey's Anatomy is in it? (yes, I know his real name is Jeffrey and charcter name in p.s. I love you is William/Billy.) Weird how we can remember some things and others just slip right out…this will crack you up….walking out of the theatre, I took off my glasses to put on my sunglasses and threw my glasses in the garbage…yikes, I didn't have a coke or popcorn, just kleenex, not sure what I was thinking. Thank God, the trash was almost empty!! I just had to dig all the way to the bottom. hee hee and then of course I could hardly walk because I was laughing so hard. I'll leave you with that today!!
Have a fantastic day and hope you get to laugh or cry if that makes you happy (you girls now what I mean!!) Thanks for stopping by!!