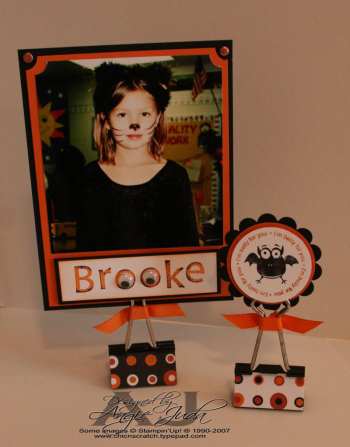 Isn't this the cutest!!!! I just love this idea and couldn't wait to share it with ya!
This is one of those black clips that we all have in our office, just turn it upside down and clip whatever you'd like on top. As you can see it will even hold a photo. This fall I plan on using it for Thanksgiving…check back later to see it!!
This picture is a really old photo of Brook but it's one that I had duplicates, doesn't she look cute. All my friends know that I dress up every year for Halloween, several times Brook and I have dressed the same….the best year was when we both went as a Bichon (my fingers hurt for days making those costumes). I'll look for that photo and share it with ya!!
Have a great day!!
Stamps: Batty for you and Short Order Alphabet
Ink: Pumpkin Pie & Basic Black
Cardstock: Creepy Crawly Designer Paper, Pumpkin Pie, Basic Black & Whisper White
Tools & Accesssories: SU Scallop Punch, 1 1/4 Circle Punch, 1 3/8 Circle Punch, 1/16 Circle Punch, Dimensionals, Pumpkin Grosgrain Ribbon, Glue Dots & Sponge
6:36 Quick update…here's the photo of Brook and I …..we were dressed like our two Bichons..I was Fluffy and Brook was Sissy…..do ya wanna see the year I was a Fall Tree?
My eyes look a little freaky…not sure why…maybe all that black..hee hee