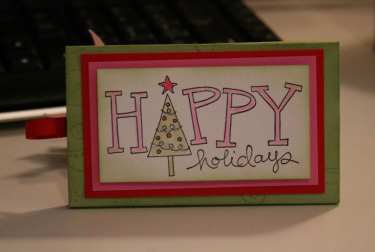 Hello Stampers!!
FYI, woke up this morning to my Tutorials not working…not sure what happened but I'm pretty sure it's fixed now….sorry about that!!
In a hurry today, getting ready to work at the Old Settlers Booth…..my shift is 2pm to 7pm and I'm only working today. If you'd like to see my specials send me an email and I'll attach a flier for ya!
This is a project that I love to make!!! It's a gum holder and I made a ton of these last year for Christmas…..I'll post a tutorial for this and the Tic Tac holder in the next few days!! Still learning this computer and I need a watermark!!
Have a Fanstastic Friday!!
p.s. I'll give you the list of supplies when I post the tutorial.