Good Morning!!
I bet you're all waiting to hear how I did on my yard sale, aren't ya??? I sold exactly what I prayed for…isn't that soooo amazing? I've had that happen many times but it never ceases to amaze me when it does. This year has been so expensive, seems like everything has needed fixing or replacing, including my body (hee hee)…fyi, lost 5.6 pounds when I weighed in at WW this week….yippie!! Anyway so we had the yard sale to make some money to pay off my new computer, I sold the exact amount to the very dollar, do you have chill bumps too? (I have to share, I did not pray for tax or the extra software I had to purchase, but hey I'm not complaining!!!)
I need to shout out a huge thank you to my wonderful customers and downline that came by and shopped!! And a super big thank you to Sandra for bringing me lunch and just being here to keep me company!! Thanks & I love you all!!!
Okay now that I've typed enough to cover the top of the page, I have to share the card I came up with last night for my Stamp a Stack on Tuesday. RED FLAG….if you're signed up for my class and want to be surprised…look no further!!!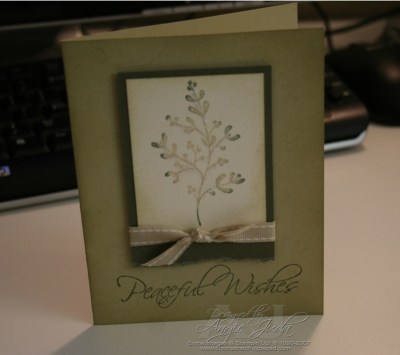 I love love love simple & elegant cards!! What do you think? It's kinda hard to see the glitter but it's there.
This week I'll share with ya more of my yard sale goodies but I need to get thru my Christmas Stamp a Stack first.
List to do on my blog…share tutorial on candy bars…share the candy bar Julie gave me last week…share my RAKS and promote my Christmas Tin Class I'm having on National Card Making Day!!!
Have a great Sunday!!