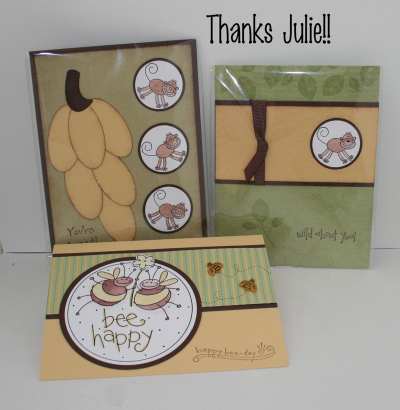 I'll start this on a positive note…aren't these cards soooo cute? My friend Julie gave these to me. I just love them !!! Thanks again GF!!!
Now about my day, oh my gosh, it's just been a bad day!!! Won't go into all the details but will share that I discovered this morning that my son had left the freezer open. The big one in the basement, the one with all the beef, pizzas and seafood. It's an upright, so as you can imagine, everything was thawed…talk about yuk!!!!!!! (If that's the worst he's gonna do in his teenage years I can handle it. When I was a teen I burned our whole kitchen. I'm sure daddy doesn't want that reminder, but you know accidents happen!!!!!)
Enough about that….
Yes……my Open House is still on for tomorrow and Saturday, as you can expect I'm running crazy pulling it all together. For all the details please click on the link to the right (Upcoming Classes…Events).
Thanks for looking!!