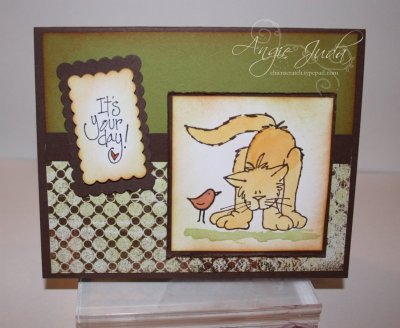 Almost didn't get my card in for the day! I've been working on my projects for my Card Class next Tuesday, can you believe "Last minute Angie" is ready almost a week early? I'm shocked…..but let me tell ya, it was Dawn that did it, she suggested a few ideas and it got me going. Now to the other exciting news…..
Julie and I went stamp shopping yesterday and it was sooo much fun!! We even showed up an hour early and visited with other friends (Tisha, Sarah, Kelly & Charlene….hope I didn't miss anyone, it was hotter than a firecracker in there!!) Our local stamp store bought out another store that was closing and yesterday she was having a 40% off sale (see, that's why we were early…I was third in line :)) So, this is my first creation with my new Stamps!!! I'm calling this my rebel card because it's using so many different companies (maybe that's what makes it so much fun).
Here's the details: Stamps: Cat (Inky Antics) Bird (a muse) "it's your day (Printworks) Ink: Black Stazon, So Saffron, More Mustard, Really Rust, Celery, Close to Cocoa & Old Olive Cardstock: Old Olive, Chocolate, Whisper White (should've used Shimmery White) & Basic Grey Designer Tools & Accessories: Aquapainter, Sponges & the New Rectangle punches……….Okay, check this out, as I'm loading this card, I realized I used Black Stazon with the words and Timberbrown Stazon for the cat….oops!!
Thanks for checking in!!!