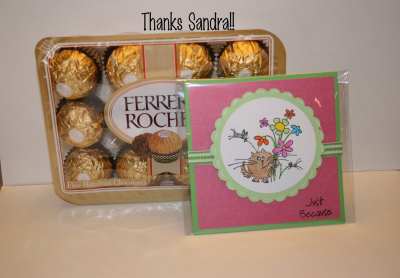 Look at my goodies from Sandra! I love those chocolates and she brought them to me during my "one sheet wonder" class. I needed a pickup and she did too! Thanks a bunch GF!!! (Michelle, if you're reading this, see I still love them.)
I have to tell you I feel like a traitor today posting a non Stampin' Up! card. Especially since I love our New Caddie!! You know I'd say that but it's true. It's very different, but I love when things change. Just like two caddies a year, great idea!!
Little warning….family time coming up, will not be posting every day in July. It's the month we try to see all our out of state family and we are sooo looking forward to Tennessee!!!
Have a great day!