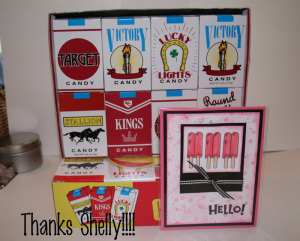 A huge thank you to my friend Shelly……Look at the goodies that she sent me! Can you believe she sent me 48 boxes of candy cigarettes?? (I love them and have a hard time finding them in stores.) Girl, you brought tears to my eyes when I read your note. For those of you that don't know….. we've been roommates at Convention and Leadership and have had a blast!!! But, this year I'm sad to say I'm not going, this candy would have been my roommate gift. Yep I cried (I know I cry over commercials, but seriously!!) I'll miss going to Convention, and miss the swaps, but what I'll miss the most is the people……all of you know who you are (the laughs we've shared are the best). If it were possible I would have gone to Convention just to visit with my friends. Last year was one of the most memorable Stampin' Up! events and we are still laughing a year later (for many reasons). I'll stop now or this will turn into a book, all ya'll know what I'm talking about……..wink wink
The next picture is a card from my friend Lise, Thanks girlfriend for helping me out when I needed it most!!!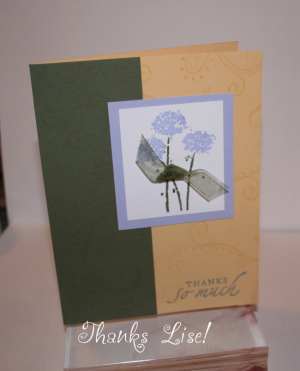 I owe ya one…no wait….I owe you several!!