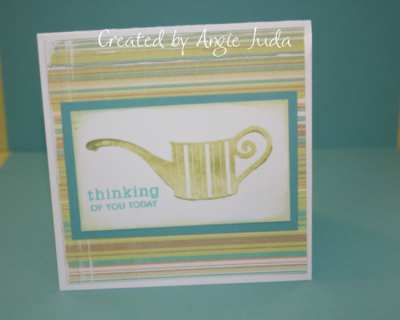 Woke up this morning in a stamping mood, I may stay in this room all day!! (you know Mother's Day a day early)
Dawn, I used "thinking of you" because I know you're coming home tomorrow. I look forward to talking to you! FYI, I haven't watched this weeks "Lost" yet…I'm waiting until tomorrow so then we can chat about it.
As for supplies, I had a blast at our local scrapbook store yesterday (it was the first time I had gone to that one since a week before my surgery). All I bought was cardstock/paper but I bought a lot so watch out!! Here's the list of supplies: Stamps: Green Thumb & Faux Ribbon by PaperTreyink Ink: Colorbox chalk (Olive Pastel) VersaMagic (Sea Breeze & Key Lime) & Stampin' Up! Cool Caribbean Paper: Crate Paper & Whisper White.
Have a Super Saturday!!